Next up in rotation: Groesbeck EDC is pleased to announce the opening of Top's Galley Southern Grill & BBQ at the downtown Corner Parkette. Top's made its debut to the area June 25th at the MAG Walker Initiative event. After a successful weekend and plenty of happy customers made, Top's Galley is venturing out to serve from downtown's featured location at the Corner Parkette.
About Top's Galley's offerings:
Equal parts classic southern cooking and grill master, Jim meshes those skills and his Marine Corps work ethic into the featured BBQ Brisket Sandwiches, Pulled Pork Sandwiches, Loaded Baked Potatoes, Brats, Hotdogs, Burgers, Seasonal Specials, and custom deserts that you will find at Top's Galley. All the beef is grass-fed sourced locally from Mesquite Country Beef in Groesbeck Texas, and his vegetables are also locally grown and purchased.
About the Owner/Operator:
Top's Galley is owned and operated by Jim Bivens. Jim is originally from Tomball Texas but has lived here in Groesbeck for 3 years. As a Master Sergeant of Marines (Top Sgt) and Marine Corps veteran, he has traveled the world and has plenty of both duty and leisure experiences under his belt but has a heart for creating in the kitchen. His call to fame is a unique way of combining old ways with the new.
What inspired the name "Top's Galley"?
Top's Galley was inspired by Bivens' service in the Marines as a Top Sergeant cooking in Naval Vessel Galleys. A Master Sergeant in the Marine Corps is affectionately referred to as "Top" or Top Sergeant and a Galley is the kitchen aboard a Naval vessel.
Follow Top's Galley on Facebook
What can customers expect from Top's Galley?
Great food and top-notch service. Top Bivens brings to the table a serviceman's heart with the discipline and grit you'd come to expect from a Marine. Beneath all that is a seasoned cook with a passion for creating satisfying plates of food. Top's Galley customers can expect to see that caliber quality, work ethic and passion. If you're unhappy at any time, let us know.
What are Top's Galley's plans for growth?
There's been a heavy demand for good BBQ here in Groesbeck for a while. Top's wants to be the one to answer that call and stick with it. We are establishing here at home and would like Top's Galley to be in regular in rotation at the Groesbeck Parkette. We also plan to serve at select private and public events in the region on a regular basis. Overall, Top's Galley looks forward to attracting supporters all over but always getting back to feed our Groesbeck roots.
Top, how as Groesbeck EDC been of assistance to your business during this process?
Groesbeck EDC has been instrumental in guiding, advising, using influencer contacts and mentoring Top's Galley through the inevitable land mines and red tape that are in any regulated field. Working with GEDC drastically shortened our timeline to be ready for our first event and now to serve the citizens and community.
Is there anything else you'd like customers to know about Top's Galley?
The need to eat and nourish oneself is a necessity, eating good food makes it a pleasure. – Top Bivens
When and where can we visit?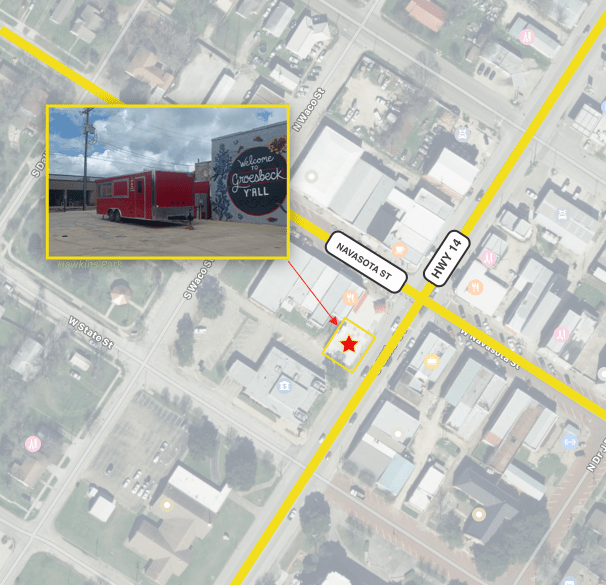 Galley Hours

Tuesday
10:30AM – 06:00PM
Wednesday
10:30AM – 06:00PM
Thursday
10:30AM – 06:00PM
Friday
10:30AM – 06:00PM
Saturday
10:30AM – 06:00PM
Sunday
11:00AM – 2:00PM